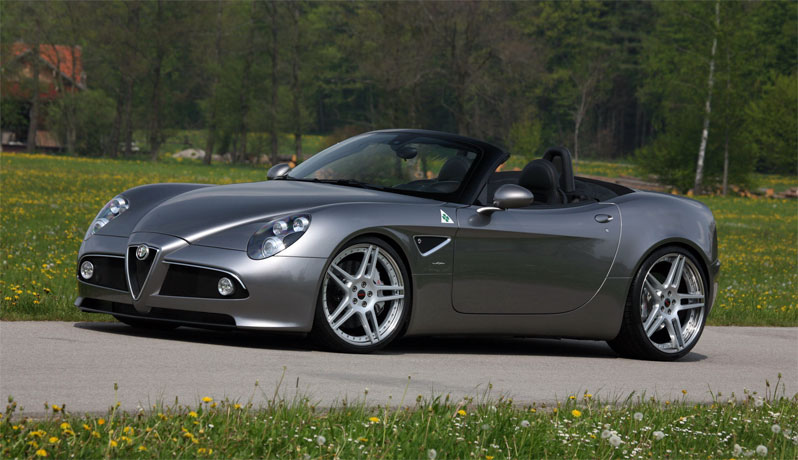 Photo by XpressCenter
Led by the experience of their sister company Novitec Tridente which specializes in Maserati tuning, Novitec prepared modification package for Alfa Romeo 8C Spider. Most important parts are the supercharger that's limited to 0.37 bars, high performance exhaust system, intercooler, and custom fuel injectors. Novitec also reprogrammed the ECU unit so all components would work well together.
Thanks to all these modifications factory 450 HP grew to 600 HP and 588 Nm of torque. Even though they fitted the supercharger to a 4.7 l Maserati engine before, they still had to fit the compressor under the Alfa 8C hood. Novitec claims that this supercharged version goes from 0- 100 km/h in 3.9 seconds and that its maximum speed is 305 km/h, as we already said serial version goes from 0- 100 km/h in 4.2 seconds, and its maximum speed is 292 km/h.
Beside the supercharger the team from Novitec put in a adjustable suspension and a massive aluminum rims which in front are 21 inch and in the back 22 inch, with Pirelli ZR tires. Novitec also offers individualized interior package to their customers with materials like leather and alcantara available in any color. As you can assume none of this is cheap, the package with a supercharger only costs 19.000 Euros. Though it might cost a lot of money this package will turn any 8C into top notch sports car.