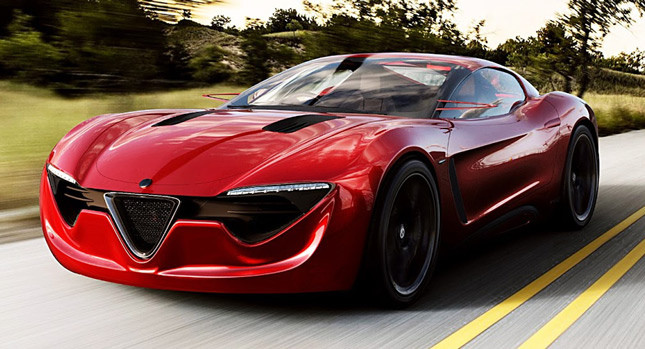 Photo by tjan616
The first muscle car was developed in the United States some half-century ago and by definition, they are high-performance two-door coupes made for wider masses, basically for people who can't really afford some of the most famous brands like Ferrari or Lamborghini. Europeans produced some cars that resembled muscle cars, but what if we could buy the real Italian muscle car in near future.
As we all know few Alfa Romeo 6C renderings and concepts came out which all presented the future version as the big coupe which in some cases is supposed to go after American muscle cars while in other after popular European coupes like Porsche 911. So automotive designer Alex Imnadze decided to present us his vision of the Alfa Romeo muscle car.
His vision of Alfa Romeo 6C is supposed to be a competition to cars like Ford Mustang and Chevrolet Corvette and Camaro. It would basically be a real European muscle car with a front engine-rear wheel drive configuration.
He was inspired by the original Alfa Romeo 6C from 1948 and by Alfa Romeo 8C, as by some of the famous Alfa Romeo concepts like 2uettottanta designed by Pininfarina. As we can see from these pictures, Alfa Romeo 6C is beautiful, it has those Italian design lines and hopefully, it will have an engine that will correspond to this amazing design.
We didn't get any information about the engine which would be fitted in Alfa Romeo 6C and I know that most of you would like to see a powerful V8, but as the name of this cars says "6C" it will probably be the 6 cylinder.
The best news about this whole story is that 6C might already be in the making, and by the info available at the moment, it is going to be a big coupe rather than muscle car which is going to go after cars like BMW 6 series and already mention above the Porsche 911.
We think that we speak in the name of many Alfists and Alfa Romeo enthusiasts when we say that this beauty should go into production; this is exactly what Alfa Romeo needs, another masterpiece with an engine worthy of carrying Alfa Romeo badge.