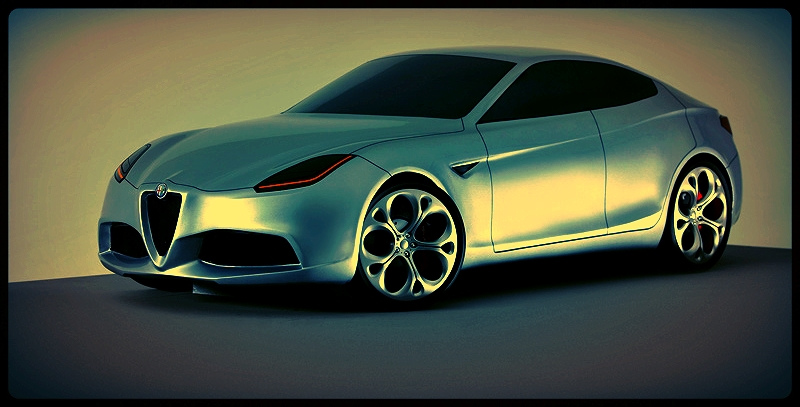 Photo by bingbangboomboom
Alfa Romeo is preparing a successor for its 166 model which will be positioned in luxury segment and it will be a competition to Mercedes CLS as the Porsche Panamera. Beside the modern design they will supposedly use Maserati Quattroporte platform or according to some speculations it might be closely related to new Maserati Ghibli, which seems logical since development of a new platform costs a fortune.
Compared to Maserati Quattroporte Alfa Romeo 169 will be 100 mm shorter, in other words it will be 4950 mm long and just as CLS it will be 1400 mm high.Code name of the project is 941 and in that project they will use longitudinal engine for the first time after 145 and 146 models. Engines will be only V6 and V8 and it is going to be produced as rear wheel drive.
Transmission will be developed by Maserati and Alfa Romeo and there is some speculations that Getrag transmissions might be used (7 speed DTC transmission with two clutches) which will be mounted on stronger engines.
All engines will use Unair/Multiair systems.According to new information Alfa Romeo 169 will use new six cylinder engine sizes 3.0 and 3.5 liter which will produce 250 and 300 HP.
Diesel engine fans will be able to choose few options one of them is 3.0 V6 engine which will produce 250 HP. Design will certainly follow family lines we saw on Mito and Giulietta as the 8c. Suspension is expected to be sporty which will make this model agile and dynamic.
However, we shouldn't expect Alfa Romeo 169 soon, in other words we can expect it in couple of years. It is possible that this car will not carry numeric badge considering the fact that in Alfa they replaced all numeric models with real names.
Available engines and estimated prices:
Gasoline 2.8l V6  250HP – 47500 Euros
Gasoline 3.2l V6  285HP – 50000 Euros
Gasoline 3.6l V6  320HP – 55000 Euros (this model might be excluded)
Gasoline 4.3l V8  400HP – 75000 Euros
Gasoline GTA 5.0 V8  530HP – 100000 Euros
Diesel 3.0 V6  275HP – 50000 Euros
Diesel 4.0 V8  380HP – 75000 Euros