Alfa Romeo 8c is known as one of the most beautiful cars of all time. When it came out in 2007 it defied all conventional design laws in special and amazing way. 8c is pureblooded sport two-seater with typical design of 60's. One thing that is really amazing about this car is impression it leaves and fact that everybody turns their head after it when it passes by. What makes this car so amazing, its design, simplicity or the fact that it is unusual?
This car is not only special on the outside, compared to German or American super cars 8c has classic and elegant interior, which is sporty but without all the racing details from F1 which Ferrari puts in their cars. When we take a look at Alfa Romeo models from fifties and sixties its beauty doesn't surprise us.  That was the time when cars were designed so they look elegant and unique, not aggressive or aerodynamic like most of today's supercars. That is one of the facts why Alfa enjoyed reputation as maker of some of most beautiful cars ever; Alfa Romeo 8c is not an exception.
8c is one interesting retro car with sport style from sixties and well known front design, rest of the car is unique and it doesn't resemble any other car.
However name 8c comes from legendary Alfa model from 40's, and it has to do more with engine than with design, because it stands for 8 cylinder engines.
Competizione translates to competition and it doesn't make this model a racing car, but it rather describes Alfa Romeo's rich racing history.
Because Alfa didn't develop any 8 cylinder engine since Montreal model, they borrowed it from Maserati; it is very similar to the one from Ferrari F430. It is 4.7 liter engine which develops 450 horse powers which pushes this car to 100 km/h in 4.2 seconds. All 500 Alfa Romeo 8c with hard top and 500 spider models were sold in record time which proved this car as an exclusive one and it is known as model of Alfa which returned to American soil. So beside Italy most of them were sold in United States.
German tuning experts of Wheels and more presented their version of coupe and spider versions of Alfa Romeo 8c. With surgically subtle interventions tuners gave this car more torque and horsepower for even more amazing driving experience. With installation of high quality components like hand built exhaust system and with advanced ECU map they turned this car into a mighty beast. Tuning stage 1 increases horsepower to 470 which will cost you 1700 Euros, stage 2 increase horsepower to 485 and it will cost you 6700 Euros.
This is definitely a good investment for this car because with power increase this car will be able to compete much better with rest of competition. With mass of 1585 kg, and stage 2 tuning, this car reaches 100 km/h in less than 4 seconds, and its maximum speed goes over 300 km/h. They also added mat black ultra light 6Sporz wheels, in front they fitted 21×9 while in the back they put 12.5×21 with Hankook tires. They achieved a great comfort in everyday use with adjustable suspension, which has a 5 year warranty. They painted their project car in white mat color with red and black stripe over it; they call it "Senza-Cromo" which means without chrome.
Alfa Romeo 8c GTA
There was some speculations about Alfa Romeo preparing GTA version of 8c. It was supposed to give us exclusive styling, ultimate equipment and stronger engine. When it comes to design, they planned new front bumper with bigger air holes, holes for air intake on the hood and similar. To make the engine stronger they were planing to add new electronic components, components inside the engine which reduce friction and revised rpm limit.
Thanks to all this, engine would develop more than 50 extra horse powers, which makes it total of more than 500. In combination with weight reduction of 150 kg and better suspension we'll get a lot better driving experience and acceleration from 0-100 km/h in less than 4 seconds. The only sad thing is that all these speculations never came close to a finished car, even though many would like to see GTA version of 8C.
Alfa Romeo 8C Spider Novitec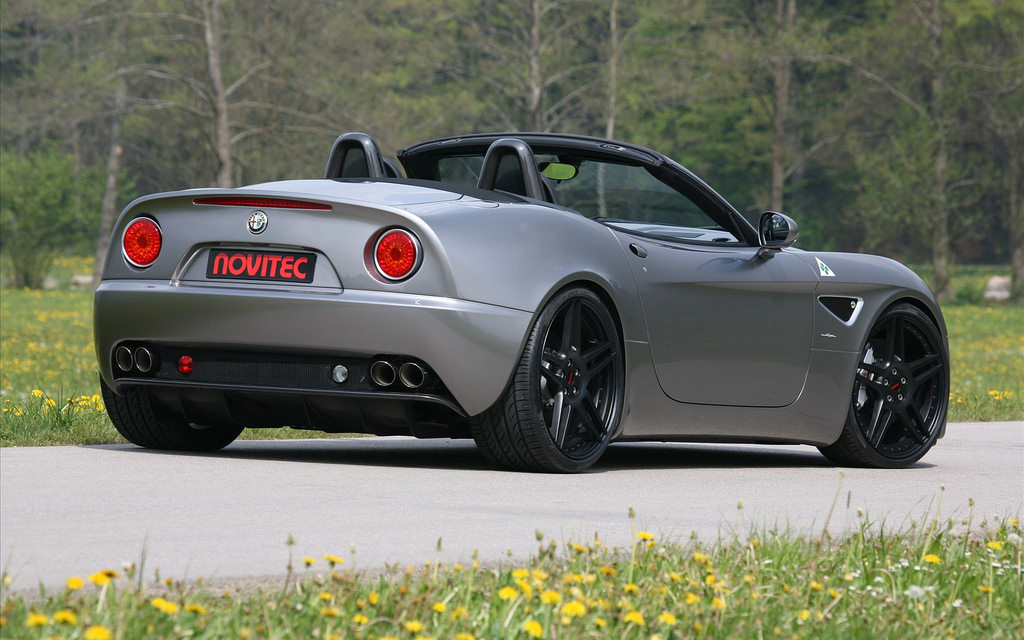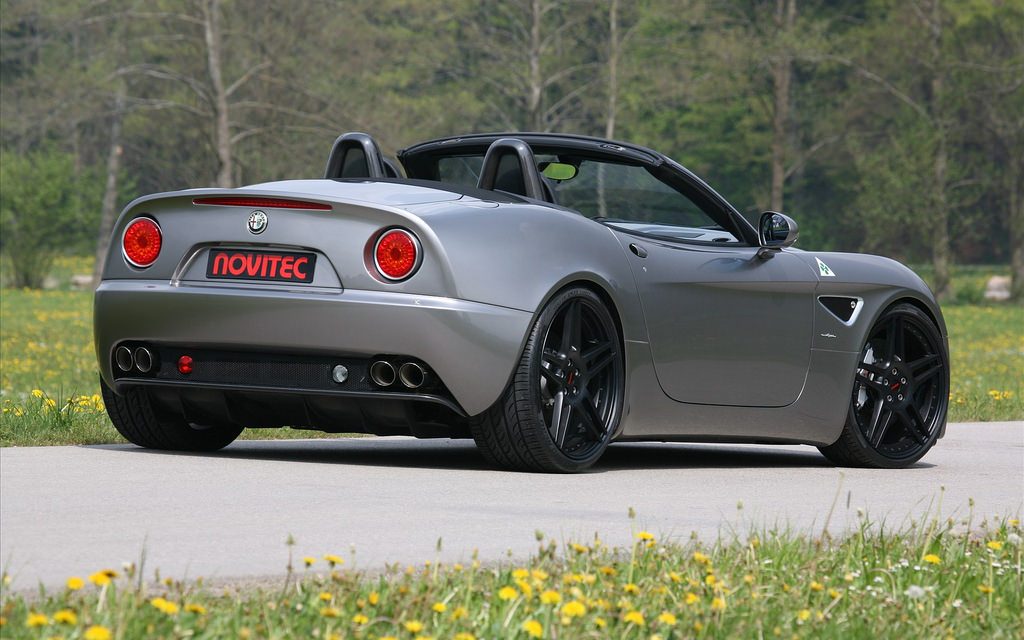 Photo by marcelo.terra84
Led by the experience of their sister company Novitec Tridente which specializes in Maserati tuning, Novitec prepared modification package for Alfa Romeo 8C Spider. Most important parts are the supercharger that's limited to 0.37 bars, high performance exhaust system, intercooler, and custom fuel injectors. Novitec also reprogrammed the ECU unit so all components would work well together.
Thanks to all these modifications factory 450 HP grew to 600 HP and 588 Nm of torque. Even though they fitted the supercharger to a 4.7 l Maserati engine before, they still had to fit the compressor under the Alfa 8C hood. Novitec claims that this supercharged version goes from 0- 100 km/h in 3.9 seconds and that its maximum speed is 305 km/h, as we already said serial version goes from 0- 100 km/h in 4.2 seconds, and its maximum speed is 292 km/h.
Beside the supercharger the team from Novitec put in a adjustable suspension and a massive aluminum rims which in front are 21 inch and in the back 22 inch, with Pirelli ZR tires. Novitec also offers individualized interior package to their customers with materials like leather and alcantara available in any color. As you can assume none of this is cheap, the package with a supercharger only costs 19.000 Euros. Though it might cost a lot of money this package will turn any 8C into top notch sports car.